Friday 6: 30 pm.
News and updates
****************
A date for your diary
Different Strokes Portsmouth's Christmas meal is planned for
Friday, 10th December 2021. It will be held in the usual venue located at
Southsea Golf Club, Burrfields Rd, Portsmouth PO3 5JJ
****************************************************
CORONAVIRUS (COVID-19) - Activites update
Please check the Activities page for details of when we may start meeting up and enjoying our groups once more.
*****************************************************

Our own Di Summers-Long's volunteering has been nationally recognised. Well deserved and congratulations, Di.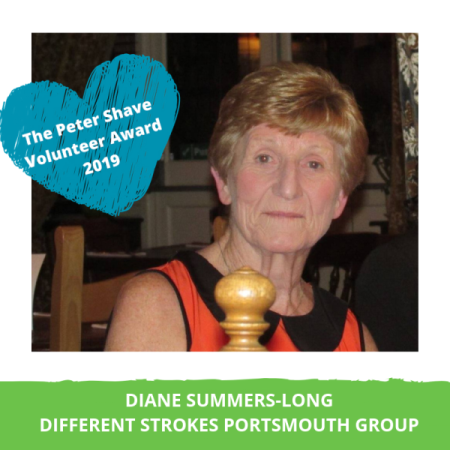 Di is the winner of the Peter Shave Volunteer of the Year Award 2019. Many congratulations on a well deserved award.
You can read more about this great news on Different Strokes website
*****************************************************
Portsmouth Disability Forums Health Cafe
Portsmouth Disability Forums have told us about their Health Cafe. It is held at Frank Sorrel Centre, Prince Albert Road, Southsea, PO4 9HR on the third Tuesday of every month.
Here's what they say:
Would you like a cuppa and a chat about issues surrounding Disability, Health or Social Care? If so then please feel free to stop by our Health Cafe!
The team at Portsmouth Disability Forum will be on hand to support you with disability related queries or questions, and our DIAL adviser will be here to answer any welfare benefit queries which can of course lead to a further appointment being made for you.
Representatives from the following organisations will be there to offer support and advice.
Portsmouth Disability Forum: Help with disability related issues or worries
Healthwatch Portsmouth: Support and guidance with any Health or Social Care issues
Millbrook Wheelchair Services: Small repairs on a drop in basis
Epilepsy Support: Offering support for people living with Epilepsy
Disability Information Advice Line (DIAL): Advice with brief welfare benefit enquiries leading to a further appointment if necessary.
*******************************